925 pellets in the database today. 21 pending.
AIRGUN PELLET DATABASE
THE MOST COMPREHENSIVE LIST OF AIR GUN PELLET DETAILS AND STATS ON THE INTERNET
---
Proshot Precision Perdere .22 (5.5mm)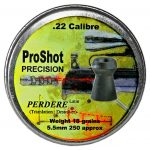 ProShot Precision Perdere (Destroyer) pellets are possibly the most devastating pellets on the market. With their fully spreading hollow point head they cause massive damage on impact. At ProShot we pride ourselves on consistency and quality. The level of quality is maintained by rigorous inspections during manufacture throughout each process, and once made only the best pellets are picked to ensure each pellet is the best that is currently available.
Gallery
No gallery entries so far. You can add your own via the comments.
All brands, products & logos are copyright of their respective owners.