925 pellets in the database today. 21 pending.
AIRGUN PELLET DATABASE
THE MOST COMPREHENSIVE LIST OF AIR GUN PELLET DETAILS AND STATS ON THE INTERNET
---
JSB Diabolo Exact King .25 (6.35mm)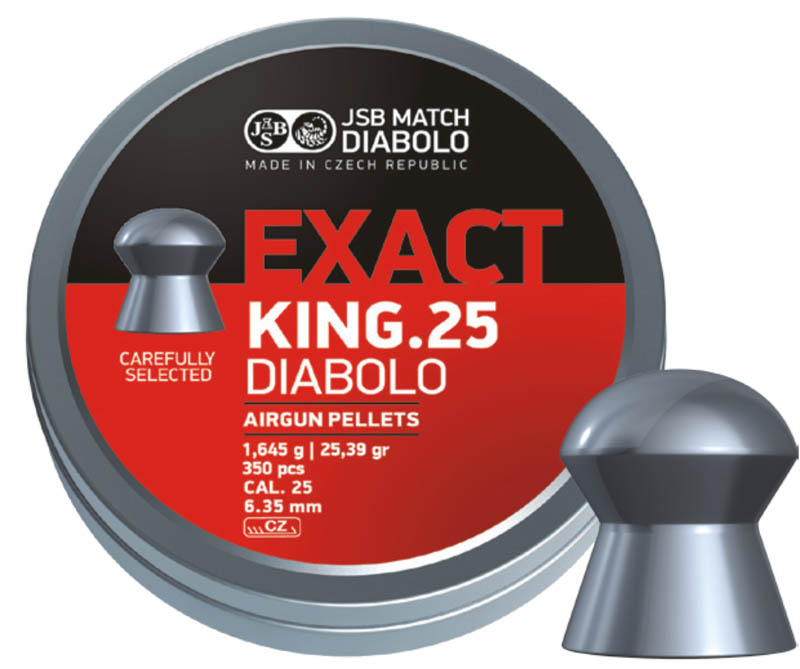 JSB Match Diabolo a.s. first model in cal.25! Of course, it is carefully designed, precisely produced and hand-pick quality controlled so very accurate. We are confident that your rifle will love them. As for its weight it is in the middle range so it is suitable for most air guns in this caliber (and you can expect heavier and lighter variants in the future).This caliber air gun require more power than the common 16J which is the (license free) limit in most countries. However it is very popular between FAC air gun lovers which are usually required to have a firearms license. Such an air gun and Exact King pellet is however a very good hunting set which can be used on long ranges (compared to other air guns).Muzzle velocity is 145 m/s if the power of airgun is set to 16J. Muzzle velocity is 250 m/s if the power of airgun is set to 50J. Muzzle velocity is 295 m/s if the power of airgun is set to 70J.
Gallery
No gallery entries so far. You can add your own via the comments.
All brands, products & logos are copyright of their respective owners.