925 pellets in the database today. 21 pending.
AIRGUN PELLET DATABASE
THE MOST COMPREHENSIVE LIST OF AIR GUN PELLET DETAILS AND STATS ON THE INTERNET
---
COAL FX550 .22 (5.5mm)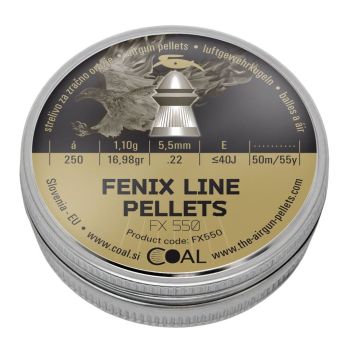 »Fenix line« pellets in calibres 5.5 mm/.22 are intended for airgun marksmen, especially for hunting, but usable also by field target. The brand new carefully designed and accurate pellets, with excellent ballistic properties assure success for all users. Heavy weight, for long range. The perfect hunting pellets.
Gallery
No gallery entries so far. You can add your own via the comments.
All brands, products & logos are copyright of their respective owners.