925 pellets in the database today. 21 pending.
AIRGUN PELLET DATABASE
THE MOST COMPREHENSIVE LIST OF AIR GUN PELLET DETAILS AND STATS ON THE INTERNET
---
COAL Field Target 250 WP .22 (5.49mm)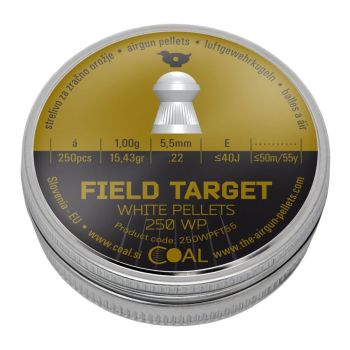 As a result of a longer development cycle in the company, we have developed the brand new FIELD TARGET airgun pellets in calibre 4,5 mm / .177 and 5.5 mm / .22 featuring a domed head with wadcutter rim, specially designed for the Field Target discipline. The aerodynamic shape, as well as the precise constancy of pellet weight (with only +/- 0.003 grams of deviation between pellets) ensures excellent speed consistency, pellet stability, incredible accuracy and the tightest shot groups.** Intended for medium ranges up to 50 metres/yards. Available in a special calibres 4.49 mm, 4.50 mm, 4.52 mm and 5.49 mm, 5.50 mm, 5.52 mm. Packed in screwable tins.
Gallery
No gallery entries so far. You can add your own via the comments.
All brands, products & logos are copyright of their respective owners.