925 pellets in the database today. 21 pending.
AIRGUN PELLET DATABASE
THE MOST COMPREHENSIVE LIST OF AIR GUN PELLET DETAILS AND STATS ON THE INTERNET
---
Apolo Monster .22 (5.5mm)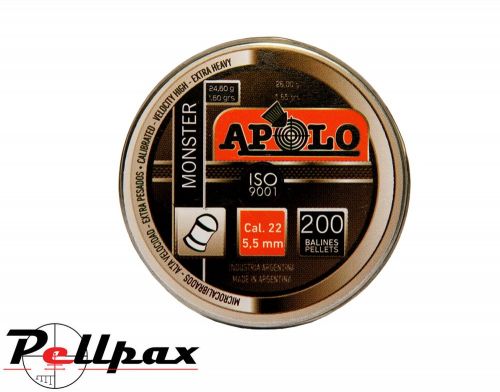 Monster pellets from Apolo are a great choice if you need a big pellet for a big job, particularly in higher powered air rifles as the shape of the pellets deals with high energy levels superbly. The aerodynamic elongated pellet shape accelerates well and deliveries a hard hit upon impact making them perfect for target shooting and hunting, and being made to ISO 9001 they are all of great quality meaning that each shot will be as good as the last.
Gallery
No gallery entries so far. You can add your own via the comments.
All brands, products & logos are copyright of their respective owners.