925 pellets in the database today. 21 pending.
AIRGUN PELLET DATABASE
THE MOST COMPREHENSIVE LIST OF AIR GUN PELLET DETAILS AND STATS ON THE INTERNET
---
Apolo Air Boss Match Competition .177 (4.5mm)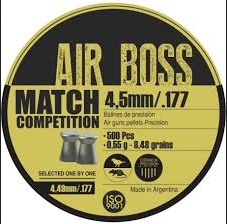 Apolo Air Boss Match Competition pellets are extremely well made pellets which suit both air rifle and air pistols thanks to their aerodynamic and simple shape. This design also helps the pellets achieve excellent accuracy and consistency results down range. The pellets are all made from high grades of lead which assists in fast acceleration and high velocities figures for a flat trajectory which assists in target acquisition. The pellets are also checked through each stage of production to ensure they meet ISO 9001 quality standards and only the best are loaded into the final tins.
Gallery
No gallery entries so far. You can add your own via the comments.
All brands, products & logos are copyright of their respective owners.