925 pellets in the database today. 21 pending.
AIRGUN PELLET DATABASE
THE MOST COMPREHENSIVE LIST OF AIR GUN PELLET DETAILS AND STATS ON THE INTERNET
---
Apolo Air Boss Barracuda Copper .22 (5.5mm)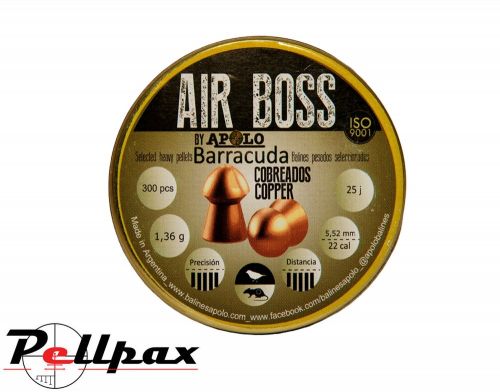 Air Boss Barracuda Copper pellets from Apolo are selected heavy weight pellets perfect for long range hunting and super accurate target shooting. This is thanks to their copper construction which allows high velocities when shooting, which ultimately leads to a flatter trajectory. The pellets have an aerodynamic shape to reduce wind resistance when shot and a slightly pointed tip for maximum penetration upon impact. All pellets are inspected throughout production to ensure the best are packaged into each tin so you can have 100% trust in each pellet.
Gallery
No gallery entries so far. You can add your own via the comments.
All brands, products & logos are copyright of their respective owners.